Travelling with Pets
New for 2023: Your pet can now join you on your helicopter flight to the Isles of Scilly
With dozens of dog-friendly beaches, miles of islands to explore, and outdoor adventures galore, the Isles of Scilly make the perfect destination for your four-legged friend.
New for 2023, we're delighted to welcome dogs onboard Penzance Helicopters on our flights between Penzance, St Mary's and Tresco.
We love dogs, and they're made to feel very welcome both in our terminals and onboard (we've even got a little jar of dog treats on our check-in desk at Penzance!)
How does my pet travel onboard?
For the 15-minute journey, your dog will travel in a Sky Kennel - approved by the International Air Transport Association (IATA) Live Animal regulations and conforming to all current legislation for transporting pets safely and comfortably. The crate is located within the main cabin of the aircraft, so your dog will be directly in front of you throughout the flight.
Your dog must fit comfortably inside our secure onboard crate, which measures 75cm long x 50cm wide x 53cm high - perfect to accommodate one medium-sized dog or two small dogs (which will fly within the same crate).
We may be able to take larger dogs, subject to operational factors and an additional fee - to discuss this, please call us on 01736 780828.
What does it cost?
The cost is £35 one way per crate (not per dog).
Penzance Helicopters will donate £1 each way to The Cinnamon Trust – the Cornwall-based national charity for the elderly, terminally ill, and their pets.

How do I book my pet on the helicopter?
We recommend booking as early as possible, as we're only able to carry one dog crate per flight.
To add your dog when booking online, select your flights and add your dog when prompted during the booking process.
If you have any difficulties or have any questions we can help answer, you may prefer to call us on 01736 780828.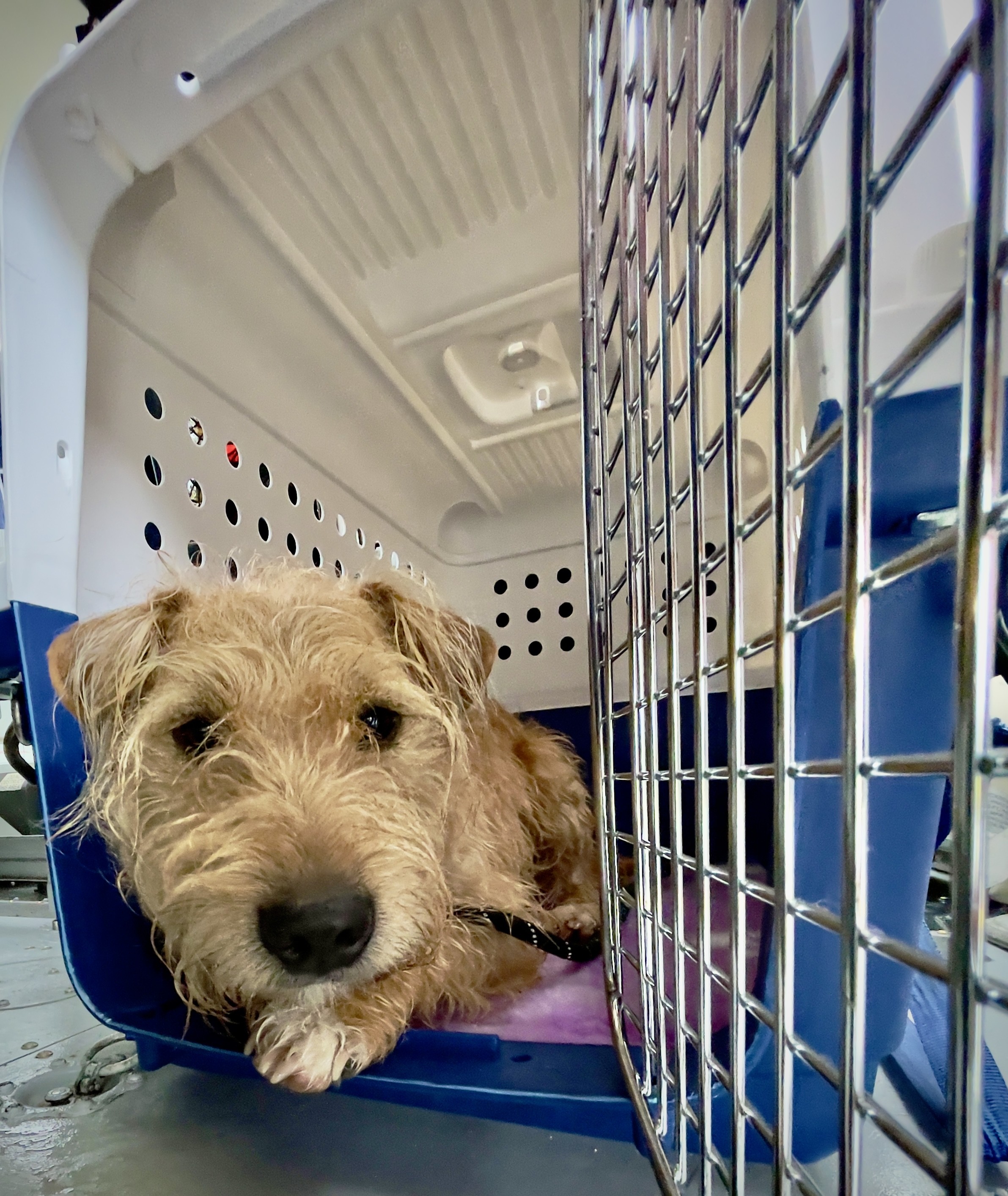 Top Tips for Travelling with your Dog on Penzance Helicopters
We recommend booking early as we can only accommodate one dog crate per flight.
Your dog(s) must be able to fit comfortably within the crate (which is 75cm long x 50cm wide x 53cm high). If your dog is too large to fit comfortably in the crate, please get in touch with us, as we may be able to offer a larger crate, depending on operational factors.
We recommend you carry your dog to the aircraft, but you know your pet best, and you're welcome to walk them to the aircraft on a lead if you prefer.
Your dog must remain under your close control at all times while in the terminal and when approaching or onboard the aircraft. Our staff are unable to assist with your dog, so you must be able to load it safely into the dog crate.
Please contact us if you're hoping to travel with any other type of pet, so we can provide advice and assistance.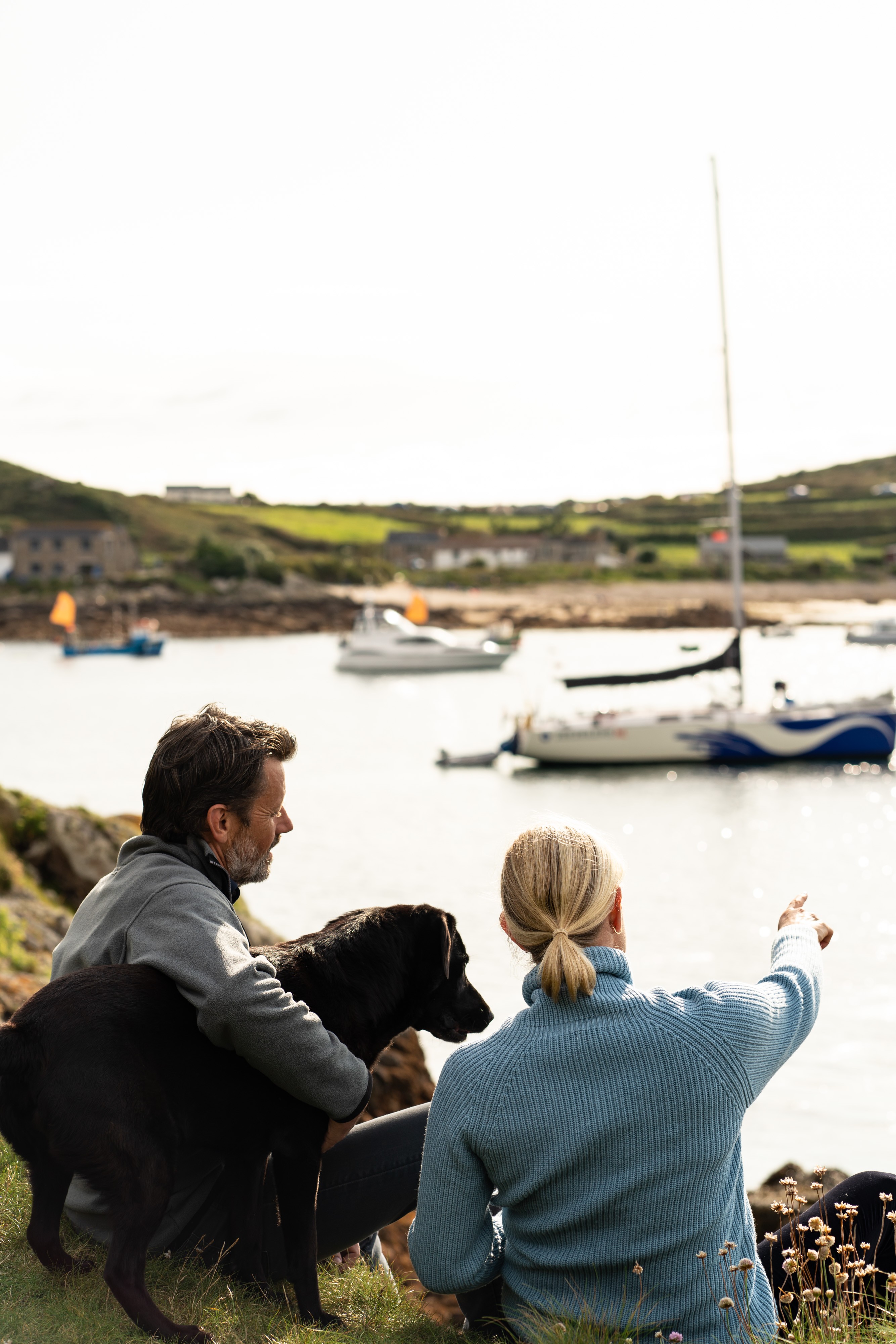 Our Top Tips for Visiting the Isles of Scilly with Your Dog
The Isles of Scilly are the perfect dog-friendly holiday haven for you and your four-legged friend.
You'll find plenty of places across the islands that welcome dogs - from accommodation to beaches, pubs to hotels (but do check ahead as not everywhere is dog friendly).
The islands have some of the best beaches in England, and most are dog-friendly throughout the year. On St Mary's, Porthcressa, Porthmellon and Old Town beaches have seasonal restrictions, but there are still dozens of other beaches to choose from. If in doubt, check the Dog Control section of the Council of the Isles of Scilly website.
All the beaches on the off-islands are dog friendly throughout the year, but please respect local signage, particularly near farms, livestock and wildlife. On Tresco, you're asked to keep your dog on the lead at all times.
There are lots of dog-friendly places to stay across the islands, but it's worth checking ahead as not all accommodation allows dogs. Those that do will often be able to help with things like dog bowls and beds, helping keep your luggage weight down a little.
There is also a doggy kit rental service on St Mary's, who can arrange for everything from crates to beds and bowls to be at your accommodation waiting for you. They can be contacted on Rhi90@hotmail.com
Dog food is available from several shops on the islands, but if your dog has a specific diet, you may need to bring food with you, as the choice is a little more limited than on the mainland. However, Islands Home Hardware on St Mary's stock or can order in many brands of dog food - you can call them on 01720 422388.
We hope your four-legged friend won't need her services, but Dr Heike Dorn is the islands' vet and can be contacted on 01720 423667.